Registrar of Voters

Mary B. Bedard, CPA

1115 Truxtun Avenue, 1st Floor Bakersfield, CA 93301-4639
Regular Office Hours 8:00 AM - 5:00 PM Mon-Fri
(661) 868-3590 or 1-800-452-8683 Fax # (661) 868-3768

---
English / Espaņol
---
KERN COUNTY PRECINCT AND DISTRICT MAPS
The following link will open the Kern County Interactive Mapping System.

Kern County Interactive Mapping





The Precinct and district information is located under "Representation, Districts, Voter" on the right side. Click on the folder to expand the categories. Check the "Voter Precincts" box. The map will now show the Precinct boundaries, but it does not have the Precinct number labels. To turn these on, click the "Change symbols" button located to the right of the "Voter Precints" option. See the image below.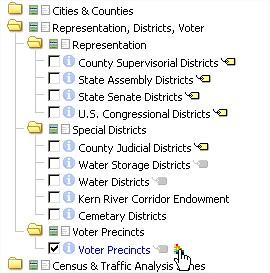 Now change the "Label Symbolization" to include the Precinct number. Click the "Label field" and choose "PRECINCT_N".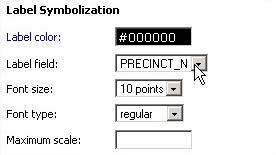 Click "Submit" and your map will now draw the Precinct boundaries and Precinct numbers.